VEN. 14 02 2020
triple hard
hangman's chair
herod
e-l-r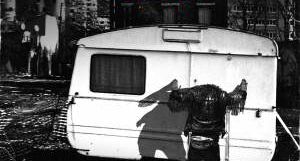 Ce sera un plateau de type locomotive, fort, intense et beau! Une belle soirée en perspective faite de bon hard actuel!
Hangman's Chair: Long and slow riffs
HANGMAN's CHAIR's fifth album is a trip down to their roots : the parisian suburbs, its bleakness and its nightlife. Going the same way as « This is not supposed to be positive » did in 2015, « Banlieue Triste » displays an even darker and colder atmosphere with more reverb and chorus, drowning itself into deep melancholy. Featuring notable guests (James from Perturbator and Marc from Mongolito and Wolvennest) and a careful blend of instrumentals (« Tara » « Sidi Bel Abbès »), catchy songs (« Naive » « 04 09 16 ») and down tempo tunes (« Negative Male Child »), HANGMAN'S CHAIR's new record asserts its identity and will undoubtedly leave its mark on 2018.
Herod: Metal Meshuggesque
Herod have arisen from the ever-prosperous Swiss music scene.
Throughout their young 4 years of presence, they have already
shared the stage with such acts as Gojira, Crowbar, The Ocean,
Carcass, Obituary, Napalm Death and Voivod – Attesting their repute
as the bus boy's of King Herod, serving up whole sides of rare riffs,
disposition, beauty and authority.
E-L-R: Post-Hardcore
E–L–R sprang from the burning hearts of I.R. (ex-Sum Of R) and S.M. in 2016 Bern, Switzerland. Joined shortly thereafter by the percussive strengths of M.K. (Horace), this trio are brought to you like the wild wind of an ardent night. Fear not to close your eyes and accompany them 'neath the mountain shadows, murmuring rivers and ancient thickets, suspended in a haze of eternal reverberation. A flamboyant aura of cavernous sounds, deep drones and hypnotic rhythms will seduce your limbs and bones like the kiss of a setting sun!
Prix 15.-
AVS et Membre 10.-
Abo jeune 5.-
Adresse
Cour du Château
2800 Delémont
Heures d'ouvertures
Jeudi : 17h00 - 22:00
(Uniquement ouvert si événement)
Vendredi - Samedi : 20h00 - 3:00
(Ou selon horaire de l'événement)
Accès mobilité réduite
les deux salles sont accessibles aux personnes à mobilité réduite
Soutien et sponsors